Step behind the scenes of BuildingLink's platform in this Employee Spotlight!
In this edition, we are excited to introduce Gonzalo Villar, one of BuildingLink's multifaceted Software Engineering Managers. Beyond his pivotal role in refining our platform, Gonzalo also enjoys CrossFit and salsa dancing.
Eager to learn more? Let's take a closer look at Gonzalo's vital impact within our company.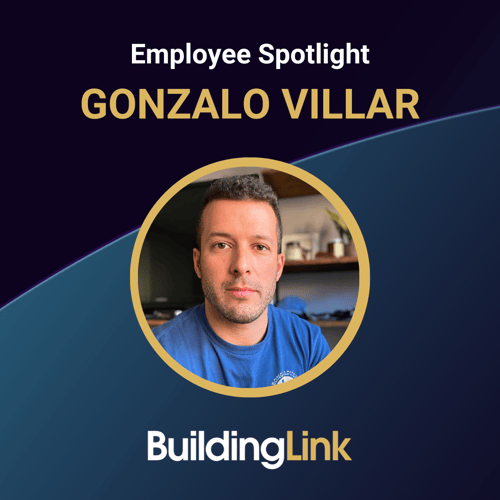 Gonzalo's BuildingLink Journey
Gonzalo embarked on his BuildingLink journey as a Developer twelve years ago. He recalls how his role was entirely remote: "Coming to visit the NY office from time to time was a treat and allowed me to get to know the people I worked with and that I can call friends today."
Over the years, Gonzalo has seen the company transform, evolving alongside it. He's witnessed our ever-growing customer base and their increasing reliance on our platform for daily operations — thanks in part to Gonzalo's instrumental role in designing innovative modules and revamping existing features. For him, BuildingLink isn't just a place of employment but also a place of growth and learning. "BuildingLink allowed me to learn and become the professional I am today," he says.
The Backbone Behind the Scenes
In his role as a Software Engineering Manager, Gonzalo adeptly balances a variety of responsibilities. He maintains close communication with various teams, guiding them through project decisions with the company's broader goals in mind. In addition to this, he actively participates in architecture reviews for future projects, mentors fellow engineers, and monitors both software development and operations.
Gonzalo's commitment to BuildingLink's core values, especially "Operate with Integrity '' and "Strength in Unity," ensures that projects and teams move forward seamlessly. Since the company is constantly evolving, "having common understanding and communication is key," he says. The Software Engineering team, as Gonzalo describes, is diligent, always receptive to feedback, and continuously on the lookout for improvement opportunities. Their open communication fosters a dynamic environment, with each member playing a crucial role in ideation and solution formulation. On top of that, by encouraging knowledge sharing, providing technical guidance, implementing best practices, and staying vigilant about the operation of crucial software components, Gonzalo's commitment to our company values upholds our reputation as the gold standard property management software solution for years to come.
2024 Vision
From an engineering perspective, the team consistently emphasizes enhancing efficiency, ensuring our systems operate faster and with unparalleled reliability for our longstanding customer base. Setting sights even higher, the department is poised for an ambitious platform enhancement by 2024, integrating the latest in technology and cloud-based solutions. With such milestones in view, Gonzalo envisions a thriving future for BuildingLink. "We offer a great product that's getting even better," he says.
Partner with BuildingLink
Trusted by HOAs, co-ops, condominiums, and multifamily properties around the globe, BuildingLink helps property managers deliver superior resident experiences while streamlining maintenance and operations. We offer tools that will simplify your record-keeping and administration, communications, maintenance, and front desk operations.
When you're ready for smarter property management, book your BuildingLink demo today.