Welcome to our new Employee Spotlight blog series! In this series, we'll shine a light on the individuals who make BuildingLink truly extraordinary. Each post will focus on one team member, providing a closer look at the vital role they play within our company.
In this Employee Spotlight, we cannot wait to introduce Krista Flanigan, one of BuildingLink's dynamic Product Managers. With her rich background and deep insights into the maintenance platform, Krista brings an unparalleled energy to the team.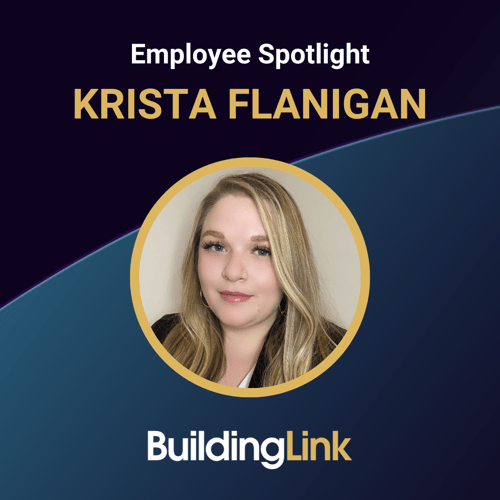 From CX to Product Management
Krista's entry into BuildingLink started with her working in Customer Experience (CX). It was this experience that gave her an edge as a Product Manager since she was able to understand the platform from several perspectives — from management to board and resident viewpoints, and even the nuances of internal admin tools. Searching for avenues to grow within BuildingLink, Krista received immense support from the Head of Product and her then-manager. "As soon as I got a taste of working in Product, I knew I was on the right path towards not just a new job, but a career," Krista says.
The Maintenance Platform's Evolution
As an integral part of the team, Krista has closely witnessed the evolution of the maintenance platform. She emphasizes the immense efforts to ensure the platform is top-notch: "There is a lot of work happening behind the scenes to make sure that our maintenance platform is the best and most comprehensive in the industry." The maintenance module's adaptability, Krista believes, is its ultimate selling point. "What I think is great about maintenance specifically," she says," is that the module is able to serve many different customers to allow them to keep their properties running efficiently. I've seen improvements with new product offerings and mobile enhancements, which is important as maintenance is an on-the-go job."

At the core of Krista's decision making about platform updates is a blend of curiosity and impact. It's about identifying the problems customers face and devising solutions. She says Marty Cagan of Silicon Valley Product Group says it best: "It's all about solving problems, not implementing features." For example, Krista is particularly proud of the recurring tasks module within Maintenance. Recurring tasks allow properties to track their preventative maintenance measures and have those tasks open on a schedule. This saves property managers time, ensures nothing is forgotten, and reduces tedious, manual entry.
A Glimpse Into Krista's Life
For Krista, no two days are the same as a Product Manager. "But that's part of the charm!" she says. Krista starts her days with a daily standup, which is a check in for the product and engineering teams to discuss progress and bring up any challenges they're facing so they can get ahead of it. Depending on what she's working at the moment, her day can be more structured, such as tidying their backlog, writing user stories, or checking usage metrics. Sometimes, her days can be more fluid and consist of working on product discovery and completing user interviews.
Strength in Unity: BuildingLink's Resonating Value
"Strength in Unity" — this core value of BuildingLink has a special place in Krista's heart. "I can honestly say that I have never worked anywhere else where Strength in Unity was so clearly important," she remarks. "BuildingLink is a place where, when someone says, 'Let me know if you need anything,' they genuinely mean it.".
Partner with BuildingLink
Trusted by HOAs, co-ops, condominiums, and multifamily properties around the globe, BuildingLink helps property managers deliver superior resident experiences while streamlining maintenance and operations. We offer tools that will simplify your record-keeping and administration, communications, maintenance, and front desk operations.
When you're ready for smarter property management, book your BuildingLink demo today.