Welcome to our new Employee Spotlight blog series! In this series, we'll shine a light on the individuals who make BuildingLink truly extraordinary. Each post will focus on one team member, providing a closer look at the vital role they play within our company.
In this Employee Spotlight, we are thrilled to introduce Lisa Carrington, our Accounts Receivable Lead, whose travels have brought her all the way from Australia to New York as a key member of our finance team!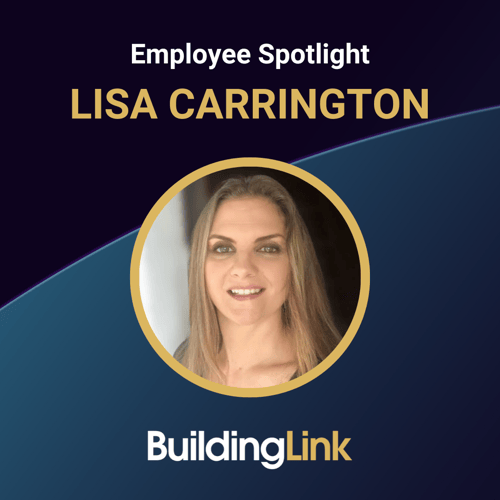 Our Lead Billing Analyst from Down Under
Born and raised in Australia, Lisa began her career in the casino industry, with roles in both gaming and finance. In 2007, she became a U.S. resident, bringing her financial experience to the real estate rental industry. It was during this time that she came across BuildingLink. "I'd been signing for keys to get access to empty apartments at a few KeyLink stations in a property that used BuildingLink," she exclaims. Her interest was piqued, so when she happened to come across our job postings, she leapt at the opportunity.
From Onboarding Operations to Accounts Receivable
Lisa's journey at BuildingLink is a testament to her adaptability, initiative, and dedication. "I've grown so much personally and professionally over the past 10 years," she says. When Lisa first joined the team back in 2014, she took on a dynamic, part-time role in onboarding operations. She was at the frontline of getting customers started, offering her support wherever it was needed, whether it was managing hardware or assisting the finance team with billing and collections. During this time, she gained a wealth of knowledge about BuildingLink's different services, departments, and customer accounts. This helped her smoothly transition into a full-time role in the accounting department, where she's been a key player for the last two and a half years!
BuildingLink's Finance Department: "Always Evolving"
BuildingLink's accounting department is more than just a group of people working together. "What sets the Finance department apart is that, yes, we have a great team. But we also ensure that we are cross trained so that our team, while small, is committed to adapting to unforeseen changes," Lisa shares. "We all care about doing our jobs well and have the same goal of always evolving so we can work smarter." This is a crucial part of BuildingLink's dedication to our clients and commitment to our core value, "Always be learning." The accounting department's work is instrumental in ensuring that clients are billed accurately and promptly so they can budget better, avoid unexpected costs, and focus more on their core business activities, such as enhancing the resident experience.
The Future of BuildingLink
Looking forward, Lisa is excited about BuildingLink's growth, with new partnerships and solutions on the horizon. "I'm excited to see how our new solutions will attract new customers, and continue to excite our long term and loyal partners."

On top of that, Lisa is excited about expanding the BuildingLink team to keep up with their growth. "Our team members are so important," she says. "I've had so many wonderful experiences at BuildingLink, but they all involve time with colleagues. From company events and retreats to just spur of the moment things, our staff is what makes the company special."
Partner with BuildingLink
Trusted by HOAs, co-ops, condominiums, and multifamily properties around the globe, BuildingLink helps property managers deliver superior resident experiences while streamlining maintenance and operations. We offer tools that will simplify your record-keeping and administration, communications, maintenance, and front desk operations.
When you're ready for smarter property management, book your BuildingLink demo today.